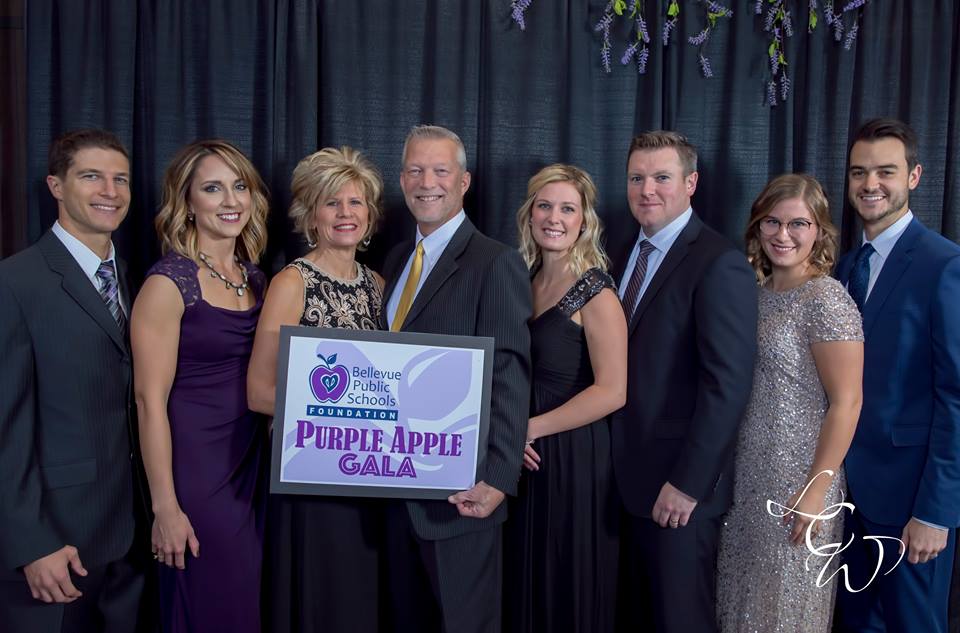 What a FUN night we had at the Purple Apple Gala! Special thanks to all the sponsors, donors, attendees, students, teachers, administrators, staff and volunteers who have given generously of their time, talents and treasures to ensure the success of this event. Your generosity demonstrates the true spirit of philanthropy, and really helps the BPS Foundation continue growing its student and teacher supports.
Many thanks to Purple Apple Gala Sponsor KMTV3's The Morning Blend for all their efforts to support this first ever event...we had great fun in this interview where we talked about where the funds will go, and another interview, where we featured our musical guest, Billy McGuigan and friends.
With Morning Blend Co-Host Kelly Nyberg as our emcee, Ralston Mayor Don Groesser as our auctioneer, and Bellevue East High School Graduate Billy McGuigan and band as our musical entertainment--who all did a FANTASTIC job--this was truly a night to remember!
Thanks also to Bellevue High School Graduate Loren Winkler/LCW Productions for documenting the event in photos at no cost to the Foundation, and offering a special rate for gala attendees to purchase a remembrance for themselves (5x7: $10; 8x10: $15). 
Gross proceeds have surpassed $60,000, and the Foundation is very excited about this opportunity to grow what it's able to do for the District in student and teacher educational supports. Thanks again to all who played a role in this event's success.
---
We have raised
$60,747.00
of our goal.
---
Sponsorship Questions?
Bellevue Public Schools Foundation
bpsfoundation@bpsne.net
402-293-4000