BPS Foundation's Annual Campaign 2017-2018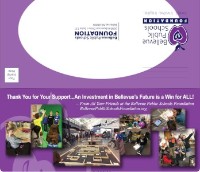 Purple Power Parter? Yes, Count Me In!
The Bellevue Public Schools Foundation appreciates tax-deductible donations at any level to provide financial support and expand opportunities for innovation in education beyond BPS budget parameters. Please consider one or more donations for the current school year. Thanks for all you do to help the Bellevue Public School District be the best it can be!
---
We have raised
$10,767.50
of our goal.
---